We hope that you will renew your WICOLA membership or join WICOLA as a new member to be part of our active lake association and help us accomplish our many goals. If you have already submitted your membership for 2019, THANK YOU.
Belonging to WICOLA gives you the opportunity to participate in helping to secure a healthy future for our lakes. Your renewal / new membership and any additional donations assure the continued ability of our organization to be a respected and active voice for healthy water in the Rainy River Watershed.
You can join / renew your membership Online and remit by Credit Card or PayPal,
Or Just Click on the Membership Tab above, "Membership-Online".
If you prefer, you can print this page (print icon upper left), cut out and complete the Membership Form, and return with your check to; WICOLA, PO Box 493, Ely, MN 55731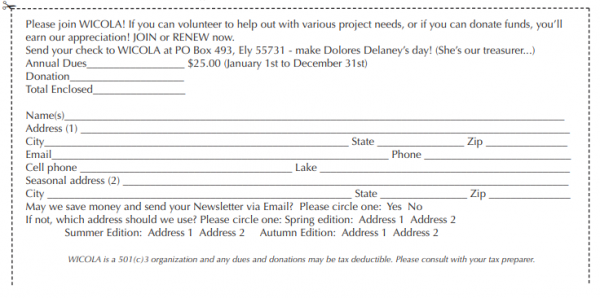 Or Click on the Membership Tab above, "Membership-Printable Form", Application Form,
View or Download