Blueberry Festival; "Guess the Number of Rusty Crayfish" Winner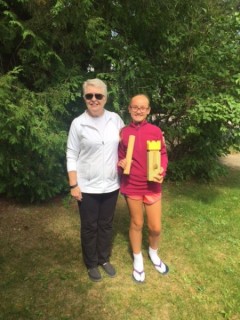 Volunteers from WICOLA and Partner Organizations spoke with hundreds of visitors at the 2017 Annual Blueberry Festival. Visitors to the booth welcomed the information provided about the spread and prevention of aquatic invasive species, and water monitoring in WICOL and surrounding lakes throughout the watershed.
Part of the education on Rusty Crawfish involved identification of this invasive species with the opportunity to guess the number of Rusty Crayfish in a two quart bottle. This year's winner is Lauren, a Wisconsin resident who spends summers in Ely. Lauren was the only entry with the correct number of crayfish- 112. The prize was a Kubb Set made by a WICOLA member. For those that may not be familiar, Kubb is a lawn game where the objective is to knock over wooden blocks (kubbs) by throwing wooden batons at them. Kubb can be described as a combination of bowling and horseshoes. The alleged Viking origin of the game has led some players and kubb fans to nickname the game "Viking chess".