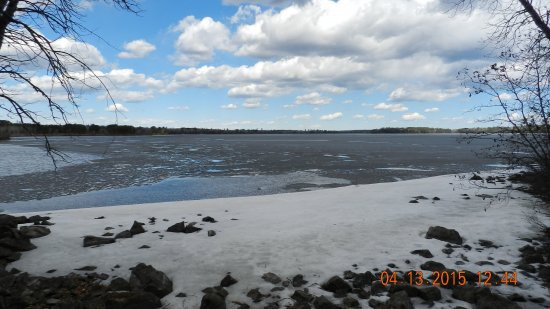 View from White Iron Lake near the Bear Island River looking north.
White Iron Lake
Some shoreline areas have a small amount of open water depending on location and wind direction. Several bays that are shallow are also becoming ice free. Today the ice between the ring rocks is about 25% open and the ice looks only a couple inches deep…Yesterday it looked close to 6". There are now major cracks in the ice and several of the pieces are shifting and grinding together. The main lake ice on both the East and West ends of the lake is very black and deteriorating quickly, especially with the warm weather and winds this past weekend...lake should be open in a few days.
Farm Lake
The ice along the shorelines is opening enough for the buffleheads to swim and dive and in the middle of the lake there is a large opening where seagulls and ducks are swimming. The ice is turning black and is rotten in a lot of places which means if these temperatures, wind and sun continue with night temps hovering above freezing for the rest of the week, ice will be gone.
Garden Lake
There is still no open water except small areas around the shoreline. Across the lake, where the Kawishiwi River flows through Garden, there is still ice. With the ice turning black, high winds and warmer temps, expect to see some open water soon. At the Fernberg Bridge, there is open water about 50 yards upstream where Garden Lake flows toward the dam.
Birch Lake
The ice is turning black, won't be long until ice out.