Date Issued: May 20, 2018
Prescribed Fire Information: 218-208-3969
Anticipated Schedule for Prescribed Fires: The USDA Forest Service plans to implement several prescribed fire projects on the Superior National Forest this spring. The actual date of ignition is dependent on many factors including: fuel moisture, relative humidity, temperature, and wind. Fire managers hope to complete the units during this spring burning season. Currently, Tuesday, May 22, shows the most promise for wind direction and speed, relative humidity, soil moisture, and other factors. However, conditions will be monitored closely. The exact date and time of ignition will be determined by weather factors as they develop.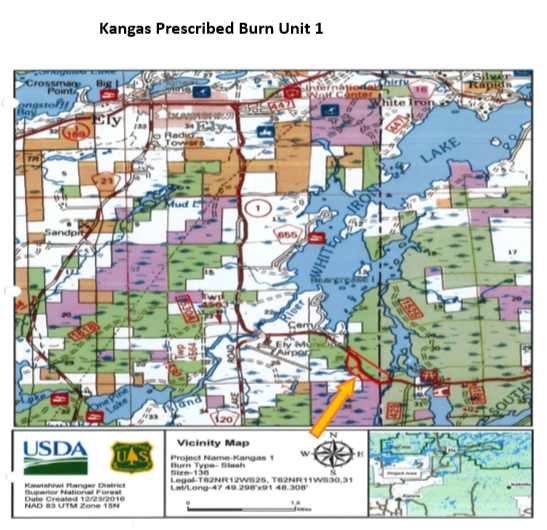 Size and Location: Kangas Unit 1 (134 acres and Unit 2 (111 acres) are at Township 62N, Ranges 11/12W, Sections 25, 30, 31, and 36.
Description: Fire is part of the boreal forest ecosystem. The main objective for this unit is to prepare for planting by reducing slash and vegetation competition in units that were harvested for fuels treatment. Fire will reduce tree encroachment and stimulate the growth of grasses sedges, rushes, and forbs. All of the Kangas units are part of a greater Ely area hazardous fuel reduction effort.
Precise ignition methods will be used to start the fires. Natural and/or constructed lines will be used to control and hold the fires. Hose-lays supplied by water pumps or other water delivery equipment will supplement the holding actions where needed. Fire crews will monitor the prescribed fire until it is declared out.
Resources: Holding crews/or engine and ignition crews of firefighters and/or engines will be working directly on the prescribed fire while it is active. Fire crews will continue to monitor the fires after they are completed. Additional resources including a hotshot crew and a job corps crew will supplement Superior National Forest staff.
For more information:
Fire Information: 218-208-3969
Superior National Forest website: www.fs.usda.gov/superior