Posted August 22, 2018 on The Quetico Superior Foundation website.
While a new copper-nickel mine near the Boundary Waters could cause a temporary growth in jobs in the Ely area, the benefits would eventually be outweighed by the harm done to the recreation and tourism industry, and the region's ability to draw new residents.
That is according to a study conducted by a Harvard economist and graduate student. The pair conducted the work on their own, without compensation.
They say their report is unique in looking two decades ahead under the dueling scenarios of an operational Twin Metals mine along the South Kawishiwi River, or if mining is blocked.
To produce their forecast, the economists ran a model 72 times comparing the scenarios. To come up with conservative estimates, the model excluded many economic benefits of the Boundary Waters.
"In all but three of scenarios, the 20-year ban produced greater economic benefits," the Save the Boundary Waters campaign wrote. "This means that in almost 96 percent of the scenarios, protecting the Boundary Waters from sulfide-ore copper mining won out, even under some of the most conservative circumstances."
'Negative effect'
Commenting on the Forest Service's proposed 20-year prohibition on mining in the wilderness watershed, the report's authors said it would have a greater economic benefit than letting mining happen.
"We find that, over the 20-year time horizon of the proposed withdrawal, introducing mining in the Superior National Forest is very likely to have a negative effect on the regional economy," the authors said. "We reviewed the relevant literature and conclude that our findings are consistent with the literature, most notably the history of boom-bust economies associated with resource extraction that leave the local economy worse off."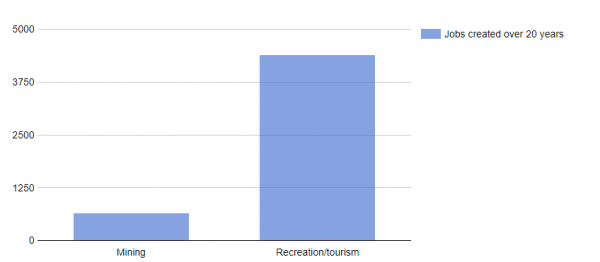 Lead author Dr. James Stock is a member of the faculty at the Harvard Kennedy School. He served on President Obama's Council of Economic Advisers from 2013-2014. The authors sent their report to Superior National Forest supervisor Connie Cummins earlier this month for consideration in the agency's decision about the proposed moratorium.
A narrower study released last year by the Friends of the Boundary Waters Wilderness, based on surveys of spending by wilderness visitors, estimated the Boundary Waters produced $78 million of economic input in northeastern Minnesota in 2016.
To Read the entire HARVARD UNIVERSITY DEPARTMENT OF ECONOMICS report; Download here (PDF)