Twin Metals announced on May 24th it will open an office in Babbitt and wants to locate its processing facility east of Birch Lake.
Twin Metals, a subsidiary of Santiago, Chile-based Antofagasta, said it has been conducting environmental studies for more than seven years in the area, though a formal Environmental Impact Statement process for the mine has not yet begun. The project is not as far along as the nearby PolyMet copper-nickel mine, which has been through the environmental review process and is now seeking permits from the state.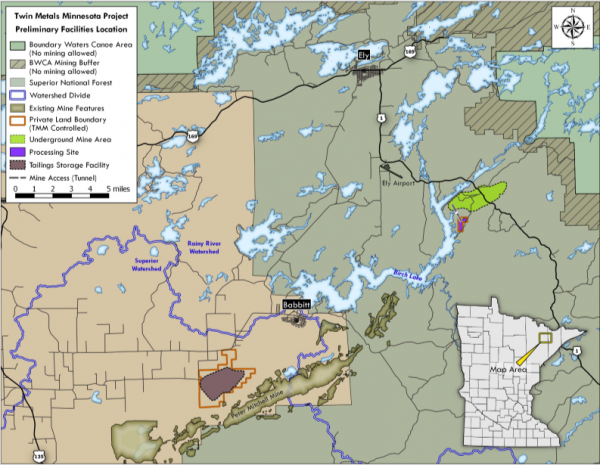 Twin Metals officials said plans to locate the processing site east of Birch Lake differs from previous proposals. Before, the company had planned to build it south of the Ely airport and west of Birch Lake. Company officials said mine employees will access the underground mine from the processing site. The facility would be built on about 100 acres of land owned by Twin Metals. As far as storage for its tailings, Twin Metals said about half of its tailings will be stored in the proposed underground mine as permanent cemented backfill, while the remaining tailings will be stored adjacent to Northshore's Peter Mitchell Mine, southwest of Babbitt.
In addition, officials said opening an office in Babbitt will allow the company to reduce traffic to the mine site, because employees can be shuttled there. They expect the project will create 650 direct jobs.
According to a spokesperson for the company, the new project information does not represent the formal project proposal, and the information is subject to change as the project development process moves forward.
The company plans to submit a formal mine project proposal to state and federal agencies in approximately 18 months.