We are very pleased to inform WICOLA Membership that the White Iron Chain of Lakes Association has been selected as the recipient of the 2018 Wilson Stewardship Award. The award was presented on March 7 as part of the 2018 International Rainy-Lake of the Woods Watershed Forum program.
The Wilson Stewardship Award recognizes outstanding achievements of individuals, groups, or projects that are making a significant contribution to environmental stewardship and sustainability of the Rainy-Lake of the Woods watershed ecosystem, through:
Education, outreach, civic engagement and participation in stewardship initiatives or program development.
Projects or programs focused on protection, restoration, preservation or reduction of environmental impact and development of sustainable practices.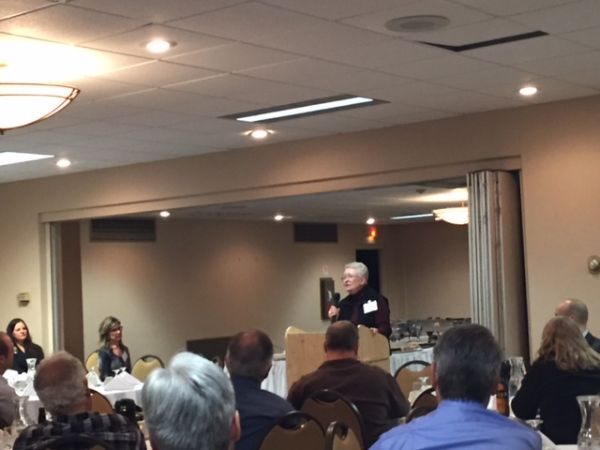 This award is named in honor of its first recipient, Gerry Wilson, in recognition of her contributions to lake stewardship during her 16 years as the former Executive Director of the Lake of the Woods District Property Owners Association. The selection committee for the Wilson Stewardship Award were unanimous in their recommendation that WICOLA's contributions, over many years, epitomizes the values represented by the award.
The Award Committee noted, in particular, WICOLA's contributions and roles in:
Initiating, coordinating, and maintaining a long-standing citizen-led water quality monitoring network on the White Iron Chain of Lakes, collecting water quality data that inform both residents and agencies
Developing and distributing a unique and innovative compact testing/educational materials to area outfitters so canoe parties can take part in water sampling
Initiating a review of existing area septic systems to identify areas of concern related to septic system condition and density
Becoming one of the most consistent "go-to" information sources for area residents and visitors on issues related to water quality, invasive species, and natural resources
Working with partner agencies and building trusting relationships that have allowed WICOLA to become recognized as a key player in furthering clean water goals in this watershed.
In addition to the contributions noted above, the committee was particularly appreciative of the significant effort WICOLA has made in contributing to the science knowledge in the headwaters and the tireless outreach to residents on water-related issues affecting the basin, including during the formation of the Rainy Basin Plan in the early 2000s.
Look for expanded coverage on the Wilson Stewardship Award in the WICOLA Spring Newsletter.